There are less then two weeks till the
Craft Boston Holiday
and I ran out of clay. It is the clay goddess that is constantly teaching us potters patience. But clay is what I love and the amazing part of it is it can be found right outside my door. Well almost.
It comes in these neat 50lb boxes from
Sheffield Pottery Supply.
And then strewn into my vehicle.
It does actually start from here. Cool eh?
Of course I couldn't resist the colors.
And I do have a thing for those little orange sponges.
Actually, it's a long story, but sponges are a slightly annoying part of my process. Those of you who have taken my workshop will know what I'm talking about.
Candelabra found on
This Next
.
As we get closer to the Holidays, I have been trying to come up with something new and fun to make and new fun to buy this December. At the beginning of the month of November many of us lost power due to wet heavy snow on trees that still had their leaves. My roommate was prepared with candles, but we ended up rigging ways to keep the candle sticks upright. So I have been thinking about making candle stick holders. Whether this actually happens now in the frenzy of holiday making or later in the darkness of our January and February winter, here are a few that I have found so far.
Candle sticks by potter
Emily Reason
that I found on
Ceramic Arts Daily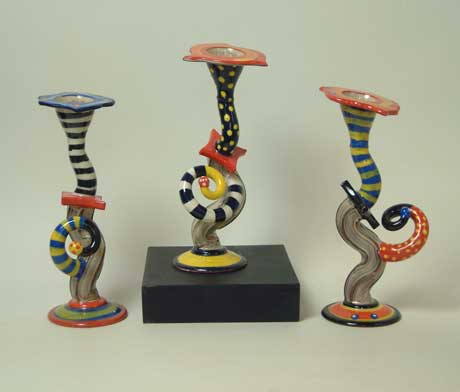 These Candlesticks from
Ross Emerson
an artist from the UK.
Scandinavian design from
The Deco Spot
: a blog about interior design and beautiful things in general. I love that!